This morning 5 AM we woke up to go to the Pagoda Wat Sampeou Meas, were we meet Sociology professor Sina at 5.30 AM. In the dark, it is an impressive sight to see the temple in lights, people in white blouses streaming towards the temple, flowers bought from the stall before the entrance and the preaching of the monk over the speakers.  
We are here to get into the question what role the Cambodian Buddhism playes in the lifes of old people. Many of them live in a Pagoda, temporarily or permanent, and at least visit the pagoda often on special Buddhist days.Today we are part of a ceremony, in which monks preach on how to life according to Buddha, and prayer is done on the principles of Buddhism.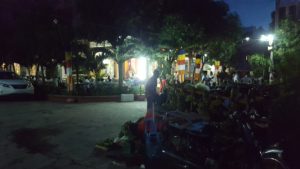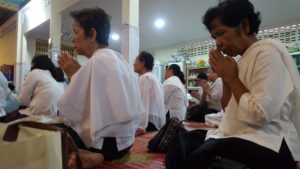 Indeed we see mostly elderly and women. All of them in white blouses, some of them with shaven heads and totally in white. After the prayer everybody goes to the front to offer their gifts of drinks food and money to the monks, and their flowers to Buddha. Behind the monks are elderly in white clothes, very fast sorting the gifts in several baskets. On tables elderly people are preparing food to be taken by the monks. Sina explains that after the monks finish eating, the helpers can also eat.
During the ceremony an elderly woman makes contact in English and asks our names. She turns out to be Chemap, 71 years old and has always worked as a doctor. She agrees to meet her at her place for an interview next week. After that Sina takes us to a woman, with her head shaved, dressed all in white. She takes us to her 'house', a small place, built like 10 others behind the pagoda. She talks to us about her life, and explains that when her 4 children were married, now 20 years ago, she asked for permission to construct this building here. Now she lives here, helps the monks and gets food when she does. If not, she gets some small money from visitors of the pagoda, and monthly pays a voluntary tribute to the monks of 5 dollar.
She is happy here, and rarely visits her children in the province. When she feels sick she rubs herself according to traditional Khmer medicine believes, or her neighbours take care of her.