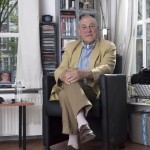 Piet Seijsener from Amsterdam is an active volunteer, giving speeches about his boat and is a tour guide in film museum Eye. Besides that he is a member of the neighborhood committee of Amsterdam-center, making a cause of provisions for elderly there, to prevent all the old Amsterdammers from moving to far away areas of the city. He has grandsons, with whom he loves to play.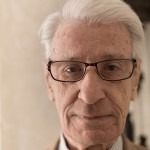 Jean welcomed us in his apartment in Amsterdam.  Son of a French father and Belgian mother, he came to The Netherlands to study when he was young. There he met his wife to be. Sitting in a room full of people, she came in, looking around for a place to sit. He waved at her to sit next to him and she never left his side. Until 2007, when she died of a brain tumor. [expand title="Read more.."] Much of his furniture and decorations are the well kept originals they bought when they moved to the newly build apartment over 30 years ago. Being a psychologist Jean has worked within hospitals and mental health care facilities his whole life. He has never stopped working, now he is as busy as ever. Spokesman for elderly in the academic hospital, part of the neighborhood council, grandfather of many, father of four sons and a daughter, all grown up. Jean is happy we came, but asks us to leave him with the cleaning. After all he does not feel old, and does not like to be treated as if he is dependent. [/expand]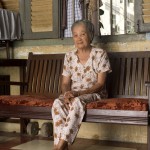 Our Vietnamese neighbor Kum Em has been living in Cambodia since 1981. Her husband lives here too, some streets away. Together they got 11 children, 4 of whom passed away already. Her house is literally stuffed: a sowing machine, dusted chairs, a whole miniature house, with photos and incense for her forefathers. During the day she sits on her her balcony watching the street, and she helps take care for the baby of her neighbor.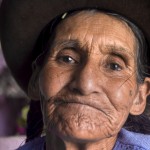 She came in, asked what we were
doing and wanted to leave again. Ushered in by the daughter of Dona Olga, another elderly from Samaipata, Dona Trinidad had no intention to stay for a photo.  After asking her again and again she decided to sit down and let Martijn take a portrait of her, and even seemed to enjoy it.  [expand title="Read more.."]Dona Trinidad is one of the Indian women who live at the Campo (rural area) of Samaipata. She told us she was 98, others said they thought she was about 75 years. [/expand]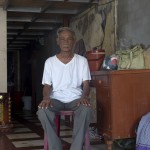 Sam Siu and his wife Kam Kiam live in our building. They live with their 4 daughters, a brother, and around 6 little children. When we came in to make a picture of Mrs Kiam, we found Sam Siu sleeping on the floor in a corner of the room, while 5  women were playing cards in the other corner, laughing and making noise [expand title="Read more.."] The children were around the women. When we came in, all the women and children started talking to and touching our 2 year old son, Sét. Sam Siu woke up and saw us and our camera equipment. He called his grandson, a young man, and helped us install the lightbox. During the photoshoot he was sitting closeby watching. When it was his turn to be portayed, he sat down completely still. We did not speak Khmer, as he did not peak English, so communication was almost without words. [/expand]