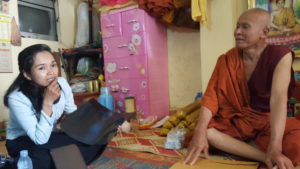 One of the ways elderly take care for themselves is being part of the Buddhist religion and being part of the life inside the pagoda's, widely spread in Cambodia. In Phnom Penh, we live next to a pagoda, where we also met Mr. Pom. Now we were looking for an elderly monk, to ask him how he looks at his life and the main issues: loneliness, income, health and social exclusion.
Thanks to Sina, who is a sociology professor in Phnom Penh, but also practices the Buddhist religion, we are admitted to the house of San (67). It turns out he has a wife and children, but turned to be a monk 20 years ago. He formerly worked as a technical assistant at the pagoda, but when he discovered he was sick with Tuberculosis, he decided to become a monk, and so ensure an income and sufficient care.
In practice this means he goes around town in the morning, asking people and at shops for money and food. If he has enough money he can buy his medicines at the hospital and get treatment. Most days he succeeds and can eat and take care of his health.