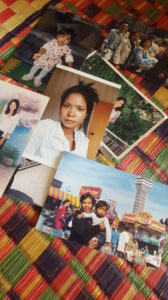 One of the main answers we get when we ask elderly around Cambodia about loneliness is that they miss their children. The one thing we encounter in all houses, poor and rich, and at the houses that we can barely call a house were photos of their children, and often their late husband (or wife).
Even in the shack of the Yoeum Phor (76), where she has nothing except a wooden floor, walls and roof, sleeping on a bamboo mat, there is 1 photo of her daughter. Of whom she tells us, that she is married now, and visits her once a year. The main cause of her sad feelings, even though there are many neighbors who care for her and talk to her daily.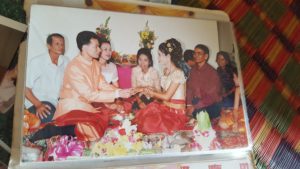 When we visit widowed Chenda (75), she started to glow with pride when she showed the pictures of her daughters marriage, who now lives in Canada with her husband. She gets sad and silent when she says it is impossible for her to live there, because of the cold. She is alone during the day, and longs for her daughter and grandchildren. Chenda is still able to walk her 3 flight stairs daily, to go to the pagoda, and walk to the riverside to look at the people there.